Hannah's "Comes Love" single is the first vinyl released on Random Chance Records (NYC).
Armed with an acoustic guitar and stacks of poetic lyrics, Hannah Frank nestled into Chicago's original music scene. Then, while walking around the city in an unassuming manner, she was bitten by the jazz bug.
She set down her guitar and ventured into the world of vocals with esteemed jazz and blues personnel, tackling the jazz standard "Comes Love," on a 7-inch 45 rpm limited edition vinyl record courtesy of Random Chance Records (NYC). The B-side is "Walkin' After Midnight." It features Dennis Luxion (piano), Billy Flynn (guitar), Ben E. Miller (bass) and Dean Haas (drums) and is produced by blues harp ace Martin Lang. [Special thanks to Bloom School of Jazz in Chicago for providing the format to explore jazz vocals].

Reviews of "Comes Love" 45 rpm vinyl:
"Her voice has that sultry, jazzy tone, tho, and one realizes when they hear her that she can sing anything she wants."    – Nashville Blues and Roots Alliance
"Nice, unpretentious."    – Blues & Rhythm (UK)
Also available at: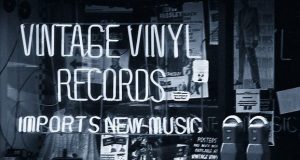 The music evolution started with Hannah Frank Group, a 4-piece folk/roots band that takes country soul and melds it with sonic atmosphere and surreal imagery, with a dab of improvisation. Alongside Meg Thomas (percussion), Victor Sanders (guitar) and Ben E. Miller (bass). Hannah Frank Group has performed at House of Blues Chicago, as well as festivals and listening rooms in their hometown, supporting their LIVE EP and other live recordings.
Own a Piece of History!

Released on Random Chance Records.