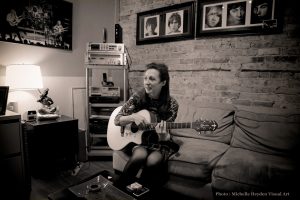 Hannah Frank is a singer-songwriter performing in Chicago; writing and recording music across genres. Whether playing solo or or with ensemble Hannah Frank Group (with Meg Thomas Percussion, Victor Sanders and Ben E. Miller, plus special guests), she's released original music as well as covers, collaborating with musicians in the blues and jazz realms. In addition to LIVE EP (Hannah Frank Group, 2014), she offers vocals on "Comes Love" a  7″ jazz single with Random Chance Records (NYC) (2019). She is currently learning about music and working on new material. Here's some highlghts:
"Comes Love" Single
"Comes Love" is a song penned in the 1930s and its message 'comes love, nothing can be done' has been proven time and again. This song is the A-side of this 7″ vinyl 45 rpm record released on Random Chance Records (NYC). The B-side is the country-western number "Walkin' After Midnight," a song about wandering and looking for your lost love. To purchase the single, click the button below:

Reviews:
"Her voice has that sultry, jazzy tone, tho, and one realizes when they hear her that she can sing anything she wants."    – Nashville Blues and Roots Alliance
"Nice, unpretentious."    – Blues & Rhythm (UK)
Folk Music Concerts 
Hannah is hitting the stage with original tunes, including this show alongside Meg Thomas Percussion:
Explore more: LISTEN TO MUSIC | STORE | VIDEOS
Homepage cover photo by Michelle Heyden Visual Art.
Sign up on the Mailing List for Updates