STORE
Buy the Vinyl:
Comes Love  7″ 45 rpm record
This features "Comes Love" (Side A) and "Walkin' after Midnight" (Side B), recorded with Dennis Luxion (piano), Billy Flynn (guitar), Dean Haas (drums) and Ben E. Miller (bass) on Random Chance Records.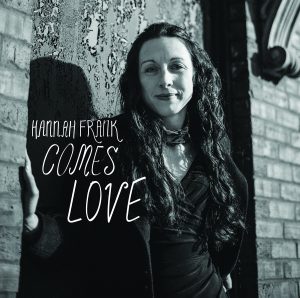 1) Order on Amazon: click here.
2) Order Directly:
Paypal $13 USD to the PayPal account at hannahfrankchicago@yahoo.com. Your order will ship in 7-10 business days (price includes shipping in the U.S.). With your order, you will receive a free 45 adapter, so that you can play the record on a standard turntable. For more info, email hannahfrankmusic@gmail.com.
SIGN UP FOR E-MAIL LIST HERE
Meet the Record Label
The new 7-inch 45 rpm "Comes Love" is available through Random Chance Records. This label was started by Rick Congress, author of a book on James "Yank" Rachell (Blues Mandolin Man, University Press of Mississippi, 2001). The roster of this label includes an array of amazing artists, learn more here.