Purchase Vinyl: Comes Love 7″ 45 rpm record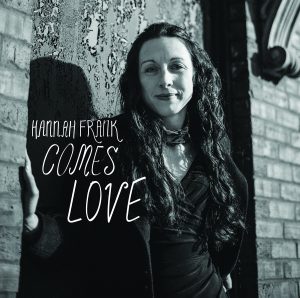 Comes Love features Hannah singing jazz and western swing: "Comes Love" (Side A) and "Walkin' after Midnight" (Side B) with the jazz phenom Dennis Luxion (piano), blues stylist Billy Flynn (guitar), Dean Haas (drums) and Ben E. Miller (bass). You won't hear this combination of heavyweight blues and jazz players on the same record anywhere else. This 7″ vinyl is a limited edition pressing on Random Chance Records.
Cost: $13 ($10 for vinyl and $3 shipping)
Payment instructions: Paypal $13 to hannahfrankchicago@yahoo.com. If you prefer to send a check, email hannahfrankmusic@gmail.com.
Please note: you will need a 45 adapter to play this record on a standard turntable. With your order, you will receive a free glow-in-the-dark 45 adapter.
Shipping Info: Shipped in 7 business days or sooner to continental U.S.
Digital music showcases a myriad of original songs. Purchase your digital tracks from Bandcamp.
Here's the song "Heart Hitter" featuring two Chicago bluesmen, Martin Lang and Dean Haas.
Here's a selection of tracks performed by Hannah Frank Group and Hannah Frank:
Here's the Full Track Lists: