Press Release
Here Comes Love
Jazz and Blues Music Worlds Meld on 7-inch Single "Comes Love" as Vocalist Hannah Frank is Joined by Top Personnel
6/21/19 Chicago, IL  – Vocalist Hannah Frank, alongside top players from the blues and jazz scenes in Chicago, steps into the world of lyrical jazz vocals with Comes Love, a single on Random Chance Records (NYC). This single features the multi-Grammy winning Billy Flynn on guitar, alongside the eminent Dennis Luxion on piano, esteemed in the Chicago jazz world. It is to be released on 7-inch 45 rpm vinyl record format, as well as digitally, on June 21, 2019. It has received reviews including:
"Her voice has that sultry, jazzy tone…one realizes when they hear her that she can sing anything she wants."– Nashville Blues and Roots Alliance
"Nice, unpretentious" – Blues & Rhythm Issue #341
About Dennis Luxion (Piano):
"Ask any jazz musician in Chicago about the city's top pianists, and Dennis Luxion's name comes up pretty quickly." — Neil Tesser, Chicago Jazz Music Examiner
"A veteran Chicago pianist of impeccable taste and considerable harmonic imagination." — Howard Reich, Chicago Tribune
About Billy Flynn (Guitar):
Billy Flynn has been a mainstay of the Chicago blues scene since the 1980's and is an electric blues guitarist, singer and songwriter who has worked and recorded with Little Smokey Smothers, Snooky Pryor, John Brim, Little Arthur Duncan, and Billy Boy Arnold, among others.
On Comes Love, Hannah and this line-up interpret a jazz standard with deftness. The studio personnel includes veteran Jimmy Rogers drummer Dean Haas and Chicago bassist Ben E. Miller. The single is produced by Martin Lang, Chicago's amplified blues harp ace who has performed with West side blues icon Tail Dragger for decades and on Delmark Records. Random Chance Records is a NYC-based label founded by Richard Congress, author of Blues Mandolin Man, a book about James "Yank" Rachell. This is the label's first vinyl release.
The record will interest fans of blues, jazz, and the singer-songwriter genre. Hannah brings her ability to interpret songs, built on over a decade of performing in Chicago with her original folk/roots band. With Comes Love, she bridges earthy influences like Son House and Woody Guthrie with her new love of electric blues/soul in the vein of Magic Sam and Ray Charles— with a dash of Western swing.
About Hannah Frank (Vocals):
"When Chicago music fans and scenesters hear the name Hannah Frank, folk and roots usually comes to mind – hardly a surprise, as the guitarist and songstress has been plying club stages in the Windy City in this genre for more than a decade. With the release of her celebrated debut single, "Comes Love," (Random Chance Records, New York) however, jazz fans in a tough jazz town will find more than enough to groove to, and then some. Her breakout vocal performance suggests that she can easily hold her own in a scene and in a town not easy on newcomers. But hold her own she does, and is here showcased by a cadre of virtuosos." – Martin Lang www.martinlangbluesharp.com
"Kudos to the musicians and Hannah for an excellent release…bridging genres between her folk singer/songwriter roots and the styling of a 40's jazz torch singer. This unique new project does exactly that. She put together a killer jazz band. The B side shows off her ability to merge country and jazz with the Patsy Cline classic "Walkin' After Midnight." Her interpretation of this song is perfect."
– Michael Teach, Founder, Chicago Acoustic Underground www.chicagoacoustic.net
EPK: For EPK please visit the contact page (click here) and request it.
Live Appearances
Comes Love will be supported by numerous local Chicago and regional appearances.
Available formats: 7-inch 45 rpm record and digital (WAV and MP3)
Digital Distribution: The Orchard
Online: www.randomchancerecords.com
Side A: Comes Love (2:31), Composed by Sam H. Stept, Lyrics by Lew Brown and Charles Tobias
Side B: Walkin' After Midnight (2:56), Written by Alan Block and Donn Hecht
Personnel:
Vocals: Hannah Frank
Piano: Dennis Luxion www.dennisluxion.com
Guitar: Billy Flynn www.billyflynn.com
Bass: Ben E. Miller
Drums: Dean Haas
Producer: Martin Lang
Release date: June 21, 2019
Label: Random Chance Records www.randomchancerecords.com
New York City, NY
Catalog Number: RCD46
For Record Store Orders — Physical Distribution: City Hall Records, San Rafael, CA  www.cityhallrecords.com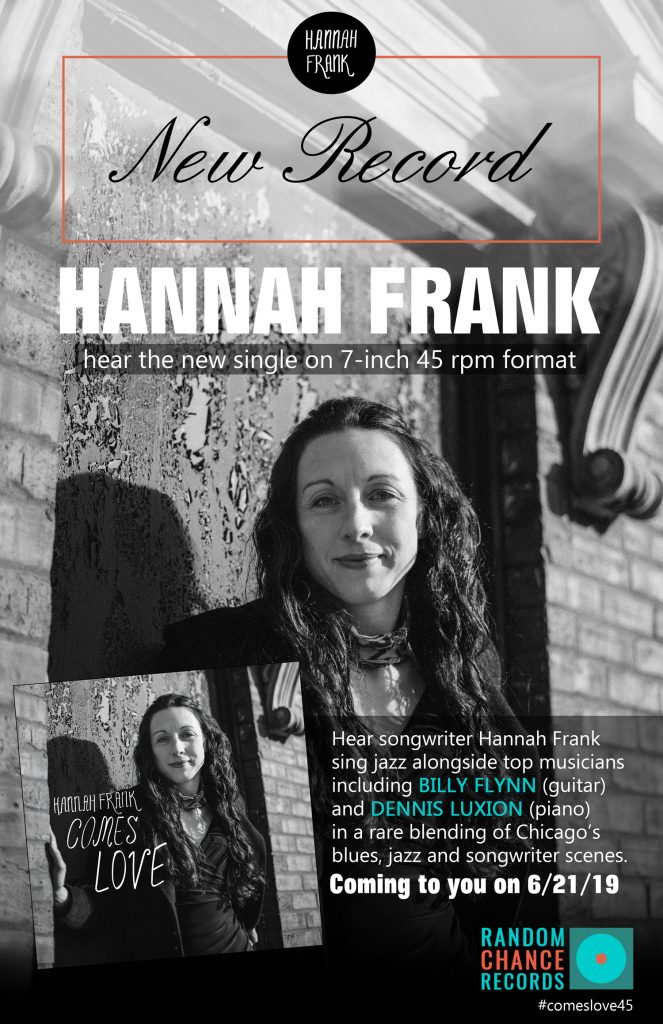 ###