ACOUSTIC HANNAH
Acoustic Hannah
Way back…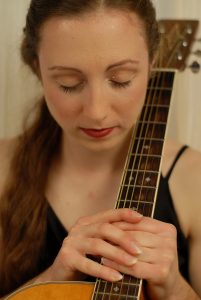 Just a smidge farther back…backed up by the incredible Hannah Frank Group (featuring Meg Thomas on percussion, Victor Sanders on guitar, and Ben E. Miller on bass).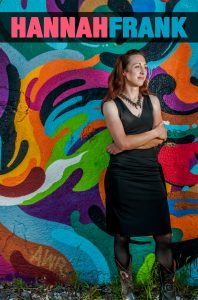 Interview with Acoustic Hannah
FAQ:
What made you pick up the guitar?
I just had a sense of wanting to play the guitar. There was an old Sears Roebuck nylon string guitar that had been my Aunt's and it was just sitting there for a long time. I got it restrung and the action was about 2 feet high on it. I played it until the black paint on the frets wore off. It seemed like an artifact from the 60s and playing guitar seemed like a rite of passage to me. Like something fierce, righteous, yet beautiful.
What drew you to write numerous songs on acoustic guitar?
I wrote not a few, but many songs on acoustic guitar and I was thinking recently of what drove me to do that. I think I just liked the sound of the guitar. A musician friend got me a 'real' guitar, a steel string guitar and it was bold, brassy, shimmery, but kind of like a cowboy rope, it had some toughness to it. I played 13 guage strings. Just strumming it was a thrill it would create a great sound. I could take it anywhere, too. I would climb into buildings or stairwells to get good acoustics and just play.
How do you feel about being self-taught vs. taking lessons?
It's funny I took a class in college on Classical Guitar. I did it for a credit. I ended up playing songs I wrote at the mini-recital in a strumming pattern, not classical at all. The teacher had no idea what to make of me. At the time, I was so opposed to lessons on guitar it was entirely separate to what I was doing. I was Woody Guthrie in my mind, a philsopher, a poet, a street vendor of thoughts, a wandering griot, the last thing I thought of with my music was lessons. I think I even burned sheet music once in a bucket just to defy it. Years and years later, I am trying to read sheet music before breakfast, I find it fascinating and might be the biggest music nerd on my block. When I started though, it was all by feel. It was all just chords, thoughts and sounds. Notes were for other people. A favorite poster was one I saw that said, "there are no notes on a dulcimer, you jus play it."
I did study a bit from a Steve Grossman book, and that is what led to the riff for Pitch Black Eyes. I also learned from my friend B. Sweet, and his unique approach to chords affected me. Mostly I embraced the idea of being self-taught. At its peak, playing acoustic guitar for me was all about embracing the idea of the guitar as the "poor man's orchestra."
While there was some alternative rock and classic rock in my brain from radio, I couldn't help but see the acoustic guitar as the instrument of the people whether rural blues or country musicians. The idea of being self-taught comes from the connection of guitar to the people. It wasn't an academic instrument, it was something you pick up after working and play your soul out on.
Don't forget to meet Jazz Hannah and Electric Hannah.