July News: Historic Magazine Blues & Rhythm in UK Reviews "Comes Love" (2019)
In the July Issue #341 of UK-based Blues & Rhythm magazine there's a piece on "Comes Love"! I am in a magazine with Robert Johnson on the cover! Do you see me doing backflips?
"Nice, unpretentious…" – Blues & Rhythm
"Blues & Rhythm covers the full blues and R&B spectrum from pre and post war blues, rhythm and blues, doo-wop vocal groups, vintage soul and gospel and the contemporary blues scene." – www.bluesandrhythm.co.uk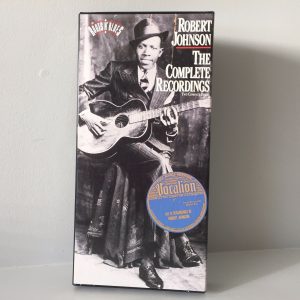 Now that my adrenaline has come down (a bit) I will tell you how I discovered Robert Johnson. It was the old days with record stores. I saw his box set and I was like, I know this has to be good. It started a whole journey of seeing myself as a solo songwriter and the magic of capturing one's entire catalog in one day or in two recording sessions.
I even tried to make my first recording session in 2001 model after him: I recorded 21 songs at once. The engineer was like um, you should check out Ani DiFranco. I was wearing a Harley Davidson t-shirt. The tracks aren't that great (although I do still have the 1/4″ analog tape) but the reason I "went for it" that day was because of this box set.
Thank you to Blues & Rhythm– I've got to get a copy to read it!
Box set image subject to copyright
In the July Issue #341 of UK-based Blues & Rhythm magazine there's a piece on "Comes Love"! I am in a magazine with Robert Johnson on the cover! Do you see me doing backflips? "Nice, unpretentious…" – Blues & Rhythm "Blues & Rhythm covers the full blues and R&B spectrum from pre and post war…